SHAW'S GENERAL STORE is as eclectic as the Vermonters who make up this great state. Skiing in Stowe did not exist when Howard E. Shaw founded this store in 1895. As the fifth generation following in his footsteps, we often wonder what he would think if he saw it today. We may not sell the wood stoves he sold back then, but we still have the original floors he walked on and the countertop he stood behind day in and day out. And we are committed to the same Vermont country store welcome and values. You will never find a shopping experience quite like this anywhere else.
Apparel, Accessories & Footwear
Shaw's General Store offers a unique selection of apparel, accessories and footwear from casual to classic styles and tastes. New arrivals every week. Our online store features some of our top-selling Vermont sweatshirts, hoodies and t-shirts for adults and children.
Puzzles, Games, Toys & More
We have a large selection of beautiful Vermont and US puzzles, games, and toys to keep the family close and entertained through vacation time and rainy nights. Our online store features favorite picks from staff and patrons. This section will grow. Keep an eye on it!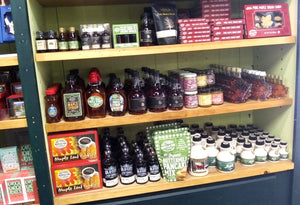 Vermont Gifts & Pure Maple Products
Authentic Vermont maple syrup will add outstanding flavor to your breakfasts for days to come. Maple candy will satisfy every sweet tooth on your gift list. Ornaments, trail signs, magnets and stickers complete the picture with a playful touch to remind you of your time in the Green Mountain State.